Non-stick Kitchen Fast Defrosting Tray
Regular price $59.99 $49.99 Sale
---
poup with stuff in it
close
---
Fast Defrosting Tray will defrost rock-hard meats, poultry and fish in minutes!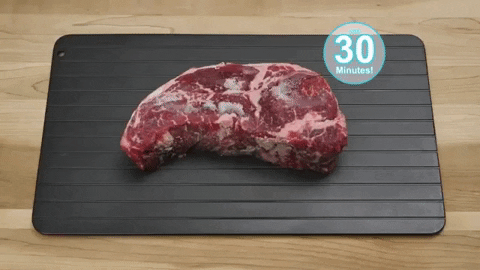 Have you ever meant to defrost something to cook, only to remember you didn't take it out?
Defrost frozen food within minutes - Thaw chicken breasts, steak, pork chops, lamb chops and more within 30-60 minutes depending on thickness
Defrost smaller food such as burgers, sausages, prawns, and bacon even faster with our Non-stick Kitchen Fast Defrosting Tray! 
Thanks to the groove design on the surface, the melting water can quickly drain away to reduce the bacterial growth on the food.
The Non-stick Kitchen Fast Defrosting Tray is made of high-quality aluminum alloy, which is stainless, durable, and has an efficient heat conductivity and is easy to clean.
Non-stick Kitchen Fast Defrosting Tray requires no electricity, chemicals, or heating! No need to microwave your frozen meat to defrost, In fact, the tray will be completely cool to the touch! Simply place the defrost tray on your kitchen counter and add your frozen food to the top.
For a Quick test Place an ice cube onto the defrost tray and another onto a normal household plate, watch as the ice cube on the Defrost Tray melts before your eyes!
Features:
Fast, Natural defrosting- No electricity, water, or microwave needed. Large pieces of meat such as frozen chicken breasts, steak, pork chops, fish or lamb chops can be thawed in 30 to 60 minutes depending on size. Smaller and thinner items defrost even faster.
Meat cook better and faster- Absolutely no chemicals or electricity are used. As opposed to microwave ovens that partially cook the food during the defrosting process, the Tray defrosts the meat safely and quickly.No more guessing at times and temperatures in a microwave, which can begin to cook the meat in the process of defrosting. 
Simple to use - Stays cool to the touch throughout its use, no pre-heating or hot water is required. Simply place frozen food onto the tray and it will defrost up to Just place frozen food directly on the surface of the tray to begin defrosting. Uses conduction to quickly and naturally transfer warmth evenly across the surface of food.
Saving time- The defrosting tray can help you thaw the frozen food quickly and it only takes you half the normal defrosting time.
Healthy- The slow defrosting makes food easy to breed bacteria and lose part of nutrition while defrosting tray can accelerate the defrosting.
Convenient and energy-saving- with the defrosting tray, the only thing you need to do is to put the frozen food on it, so you will no longer need to use the microwave or try other methods to accelerate the defrosting.
Note: The ceramic wares are thawed for approximately 91 minutes, and the rapid thawing plate is thawed for approximately 16 minutes
By thawing the rapid thawing plate, nutrition and gravy can be firmly locked in the meat, reducing the overflow of juice when the food is thawed, and retaining its deliciousness
Specifications:
Material: Aluminium
Shape: Rectangle
Size: 13.78 X 8.07 X 0.08 inches
Package Includes:
1 x Non-stick Kitchen Fast Defrosting Tray
Real time shoppers on site
stock running low.